National average farmland values are close to their 2014 peak reports Savills latest analysis of the GB farmland market. Supply, while constrained in a historic context, is up on the past two years at the half-year point.
The interest in commercial units of scale runs alongside the continued demand for land suitable for environmental schemes from corporate investors and environmentally focused buyers.
The average value of prime arable and grade 3 grassland across GB is now around £9,420 and £6,100 per acre respectively. Across the south, the average value of prime arable is slightly above the national average at around £9,820, and in the south east, the average value of 'all types' of land was £8,530 to the end of June 2022. In England, prime arable outperformed market averages recording a 3% rise during Q2 versus an average 2.6%.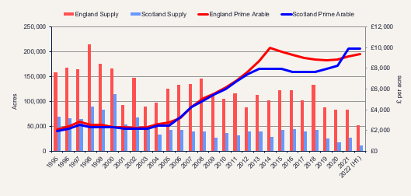 Emily Norton head of Savills rural research comments, "The evidence of keen investor appetite for large holdings launched to the market earlier this year suggest upbeat market sentiment for commercial agriculture notwithstanding the Ukraine crisis and the environmental narrative of recent years."
21% of farmland advertised during H1 2022 are farms over 1000 acres with the 10-year average running at 11% of all farmland advertised.
In other English regions supply remains constrained and often sales that have come forward are due to retirements which have been accelerated due to the huge impact on the cost of and risk of production due to the Ukraine crisis. The south east has seen a 9% increase in supply during the first half of 2022 compared to the same period last year, with 7,300 acres publicly marketed to the end of June, while the south west has seen a 12% decrease, with 7,700 acres.
Chris Spofforth, Savills head of farm agency in the south east, says: "A key feature of the market so far is the range and scale of property types available this year. This has led to a spread of potential buyers. Some have no past exposure to the agricultural sector and are attracted by the relatively safe investment opportunities presented by farmland at a time of considerable economic uncertainty.
"Demand for smaller farms is at unprecedented levels with a growing pool of buyers frustrated by the lack of opportunities."