Watsons of Heathfield are pleased to be marketing Thordean Farm at Cowbeech in East Sussex. 
This ring-fenced residential grassland farm has been in the same family ownership since the late 1930s and in more recent years has been the home of the prize-winning Thorndean herd of pedigree Limousin cattle. 
The farm is situated in a rural yet convenient location close to the hamlet of Cowbeech and just south of the picturesque and archetypal English country village of Rushlake Green, with houses, a pub and village shop arranged around and overlooking a central green.  The market town of Hailsham, with its extensive range of shops, is about 3½ miles to the south-west and its livestock market is an excellent and convenient place to source or sell stock.
The farmhouse was built on the holding in the late 1940s and has been extended to provide the extremely spacious family accommodation now available. It is positioned to take advantage of the far-reaching views over the surrounding Sussex countryside and is constructed of brick with hanging tile upper elevations under a tiled roof.
The accommodation includes a large sitting room, dining room with views, kitchen/breakfast room, farm office/utility room, study, library and four double bedrooms, three of which are large suites. 
Attached at the southern end of the house is an enclosed swimming pool with anti-slip floor surround, sliding glass doors opening to a paved terrace area and double-glazed panelling that forms part of the walling to give a sweeping outlook over the garden, as well as panoramic views of the fields and woodland beyond. There are three garages offering storage space for numerous cars and one has the potential for conversion to an annexe, subject to obtaining planning permission.
To the north of the farmhouse, with convenient foot access via a concreted pathway across the adjoining paddock, is the farmyard with its own gated entrance onto Cowbeech Road and excellent range of farm buildings of nearly 11,500 sq ft, particularly well laid out for the housing, managing and handling of cattle. 
These buildings comprise a number of covered livestock yards with features such as concrete passageways, feed barriers, storage areas and at the southern end of the yard a former cowshed with dairy room, workshop and toilets. To the rear of this building is a small area of fitted sheep handling pens and dip. The yard has good vehicular access and is surrounded by fencing and gates that form a fully enclosed working area.
The land lies to the west of the farm buildings and is divided into a number of grassland fields by established and well-kept hedgerows. Along the northern boundary, with field-gate access at either end, is an attractive mixed species broadleaf woodland with clear ground under the canopy, numerous specimen oak trees and a small stream running from east to west.
The farm is available as a whole or in two lots; the farmhouse set in about nine acres of gardens and pasture as lot one and the farm buildings, pasture and woodland, totalling about 60 acres, as lot two.
Further details: Tel: 01435 865077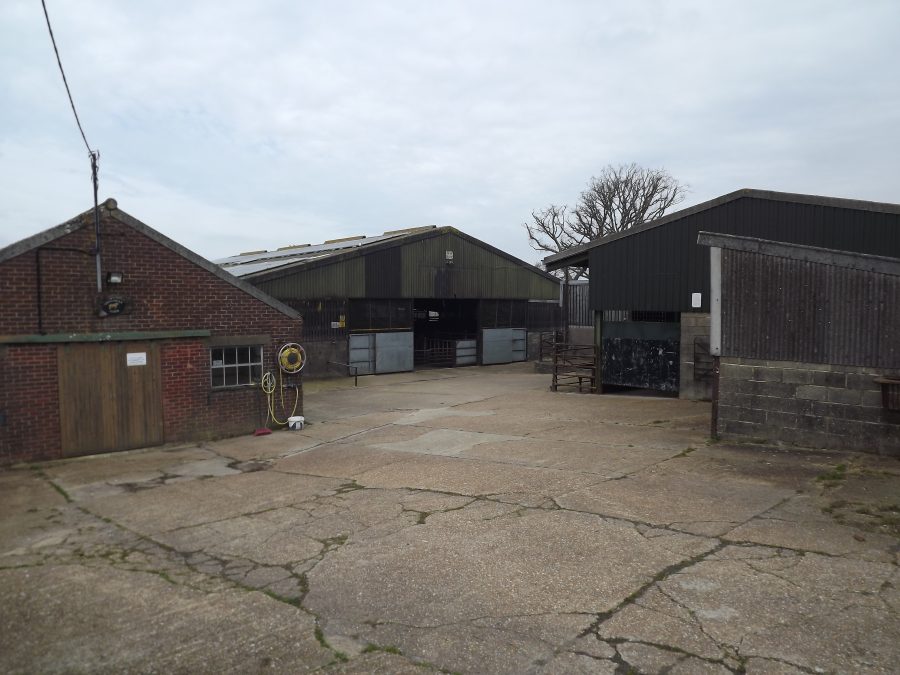 For more like this, sign up for the FREE South East Farmer e-newsletter here and receive all the latest farming news, reviews and insight straight to your inbox.