Beef farmers choose Sussex cattle for lots of different reasons, as was highlighted by the recent annual herd competition which saw judges visit pedigree Sussex herds throughout the country to discover more.
The competition is split into three categories – large, intermediate and small – and with a panel of six judges having chosen their three winners it fell to Alan Mummery of Lambert and Foster to visit the winning herds and find his overall champion. This year that honour went to the Elbridge herd near Canterbury.
"I was honoured to be asked to judge the Supreme Champion Herd of the Year 2023 for the Sussex Cattle Society. I enjoyed visits to three outstanding, but quite different herds, and I congratulate the owners on their success in winning their individual classes. My task was not easy.
"It was fascinating to see such high quality herds all with very different management systems, different farm environments but all making Sussex cattle work as part of a profitable enterprise. Great attention was paid across all three to breeding values with decisions being data driven, something The Sussex Cattle Society is keen to encourage and has which has led it to make Signet recording free to all its members.
"It was not an easy choice, stockmanship across all three was of the highest quality, but I decided to make the Elbridge herd the Supreme Champion because I saw cattle being managed very successfully on some very challenging marginal ground and the herd looked extremely impressive – a great advert for the breed . This, coupled with the consistent herd type from the breeding cows, to the intakes of in-calf and maiden heifers which is the aim of any breeder and I congratulate E H Holdstock & Son on their success.
"Finally, I thoroughly enjoyed my tour and it found me rather wanting to return to my previous times as one of the auctioneers to the Society!"  Alan Mummery
Winner of the Large Herd Category: The Elbridge Herd – E.H. Holdstock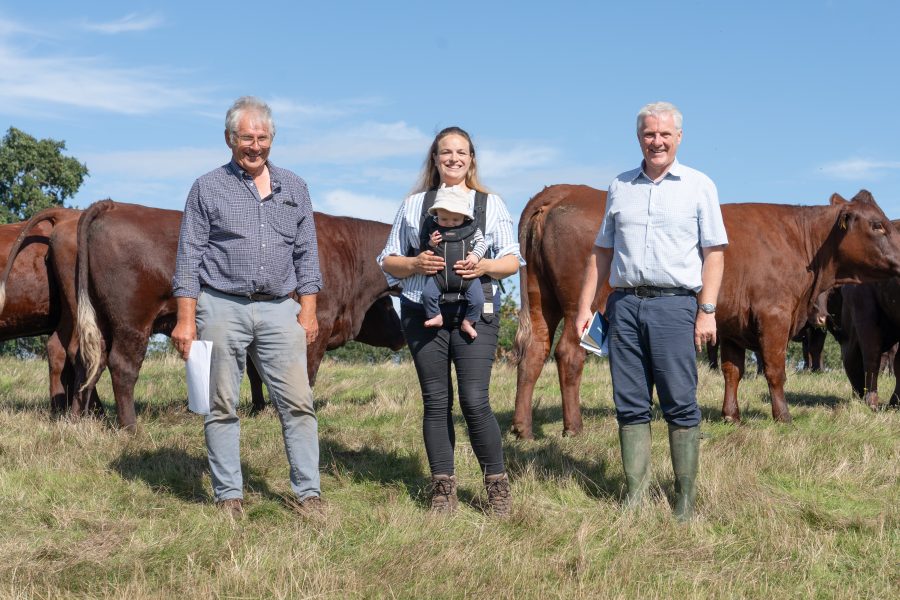 "The Elbridge herd is part of a mixed farm outside Canterbury. The farm is Red Tractor and LEAF accredited and signed up to Signet beef breeder recording.
"Over the years the cow numbers have increased to currently stand at around 190 which is split between spring and autumn calving (around 110 spring and 80 autumn). All calving is outside and the spring calving cows are outside all year, grazing on stubble turnips through the winter months. We are firmly convinced that the Sussex breed is ideally suited for our farming system. The qualities of easy care, well-natured cows that thrive off poor quality forage (which makes up a lot of our grazing) and calving mainly unassisted outside, works well for us.
"We currently have around 20 different female lines, four working pedigree bull lines and four other lines within our young bulls. We are very selective in choosing our breeding stock and we ensure that we maintain the especially desirable Sussex traits of good temperament, milkiness, sound feet, longevity and good food conversion."
Verity Holdstock
Winner of the Intermediate Herd Category: The Trottenden Herd – C E & W S Millson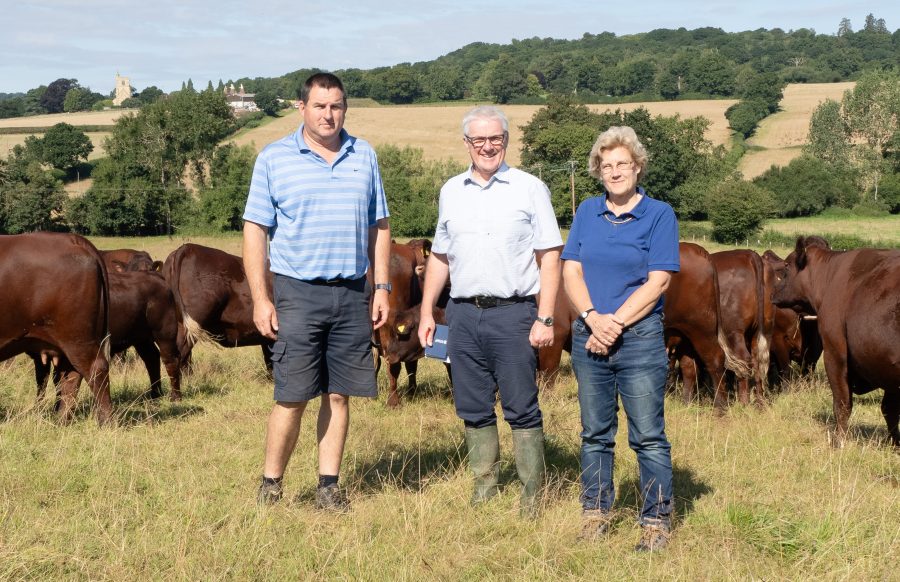 "Trottenden is a 75 ha farm outside Goudhurst of which 68 ha is permanent pasture with the remainder in small parcels of woodland. The pedigree Sussex herd was started here in 1972. We now run around 30 suckler cows, keeping their followers to sell for breeding or finishing in our beef box scheme. The cows are kept outside for as long as the ground allows and then fed on grass silage during housing – this low input system together with their easy calving and docile nature makes Sussex our preferred breed.
"The farm has been in stewardship schemes since they have been available, and from 2024 we have been accepted for Higher Level Stewardship, so with our pedigree Sussex herd we will benefit from the native breed at risk supplement on land in GS7 (regeneration towards species rich grassland) and WD6 (creation of wood pasture)."
Vanessa McNaughton

"Coopers Farm is a typical High Weald farm near Wadhurst of 100 acres of permanent grass and woodland. The herd of around 18 suckler cows was established in 2002 and grazes unimproved pastures until late autumn when they are overwintered inside on hay alone. The cattle are Signet recorded – which gives us a good indication of the milkiness of the cows – which, together with high herd status, is increasingly important to buyers looking for breeding stock, especially bulls.
"Two or three bull calves are kept each year and about two-thirds of the heifer calves are kept for replacements or sale for breeding, with the rest being sold through Hailsham Market. We chose Sussex as they thrive on our low input system and being the native breed of the South East are much sought after by the public and local butchers. They are extremely docile, biddable and easy to calve; we rarely need to assist and I probably shouldn't say it but on an autumn morning the picture of those dark brown cows against the High Weald background is hard to beat."
Jane Howard